One of my favorite NY Comic Con experiences happened about 5 years ago with my good friend Sam James. Sam and I were walking the floor and he is a huge TMNT guy. So he sees Peter Laird of TMNT fame and starts going bonkers. He runs over to the table and buys a lithograph from Mr. Laird, which he is super happy about. As we started around the floor again, Sam mentioned that he wanted to meet Kevin Eastman, the other man responsible for TMNT... who was also somewhere at the show. As we sought him out I wondered out loud why he wasn't near Laird's table, considering how their creations were so related. Sam explained that they had a huge falling out and that they didn't really like each other much. That made the situation funnier and much more understandable. When we found Eastman, Sam asked him to sign the same lithograph... he explained to Eastman it would be an honor to have both guys signatures on one piece. Eastman promptly said "This is the shitty pieces Laird is selling at his table? I ain't signing that...". But he wasn't a complete dick, he did one better... he turned over the lithograph and did a full on Leonardo sketch right there on the spot. When he finished, he looked up at our shocked faces and said something to the effect of "Fuck Laird... now you got your very own TMNT original, not some generic piece of shit". He signed it, and so Sam was faced with the dilemma of getting both signatures on a piece, albeit one on each side... lol. This was first hand proof that these guys despised each other. So imagine my surprise when I opened my email and see that both Eastman & Laird will be working together on a 30th anniversary one shot issue that will feature a bunch of one off stories about the green foursome. I for one couldn't be any happier...
Click after the jump for more info on the release....
The book will be a 48 page full color one off that features some of the creative talent responsible for 30 years of TMNT goodness such as Eastman, Laird, Dean Clarrain, Chris Allan, Tom Waltz and Dan Duncan... the stories will hit on various eras of Turtle history. The book doesn't have an official release date yet, but I am sure that it will coincide with the August 2014 movie release that is rapidly approaching. I am excited, and being a day one comic fan boy of the property I will be pre-ordering my issue. Glad to see that the guys are able to put their differences aside in celebration of the great characters they created all those years ago! You can see the full press release below...
Here is the full press release;
San Diego, CA (February 24, 2013) – The
Teenage Mutant Ninja Turtles
are celebrating a milestone 30
th
anniversary this year and the festivities are ramping up! This May, co-creators
Kevin Eastman
and
Peter Laird
karate-kick into high gear with a very special 30
th
Anniversary issue at IDW. Featuring a brand-new cover created by the original team, this issue marks the first time in over 20 years the pair has worked together on the property.
"TMNT has been an important part of countless
fans' lives, including myself," said series editor
Bobby Curnow
. "Getting the chance to celebrate this rich history is an amazing opportunity. Almost as amazing as getting to see new material from these creators again!"
"Working on the TMNT Comics with the wonderful and amazing IDW team over the last three years reminded me how much I MISSED and LOVED the four green guys." said
Kevin Eastman
, "getting to work with my Co-Creator
Peter Laird
again is the icing on the cake - and then some! It really took me back thirty years, to the earliest days, with the fondest memories, and why we got into this business in the first place."
The 30
th
Anniversary Special will be a cavalcade of all-new short stories by the top talent that has built the rich TMNT world over the past 30 years. Each story is inspired by a different era of TMNT's rich history, and features the unique look, feel and voice of that time period. From
Dean Clarrain,
Chris Allan,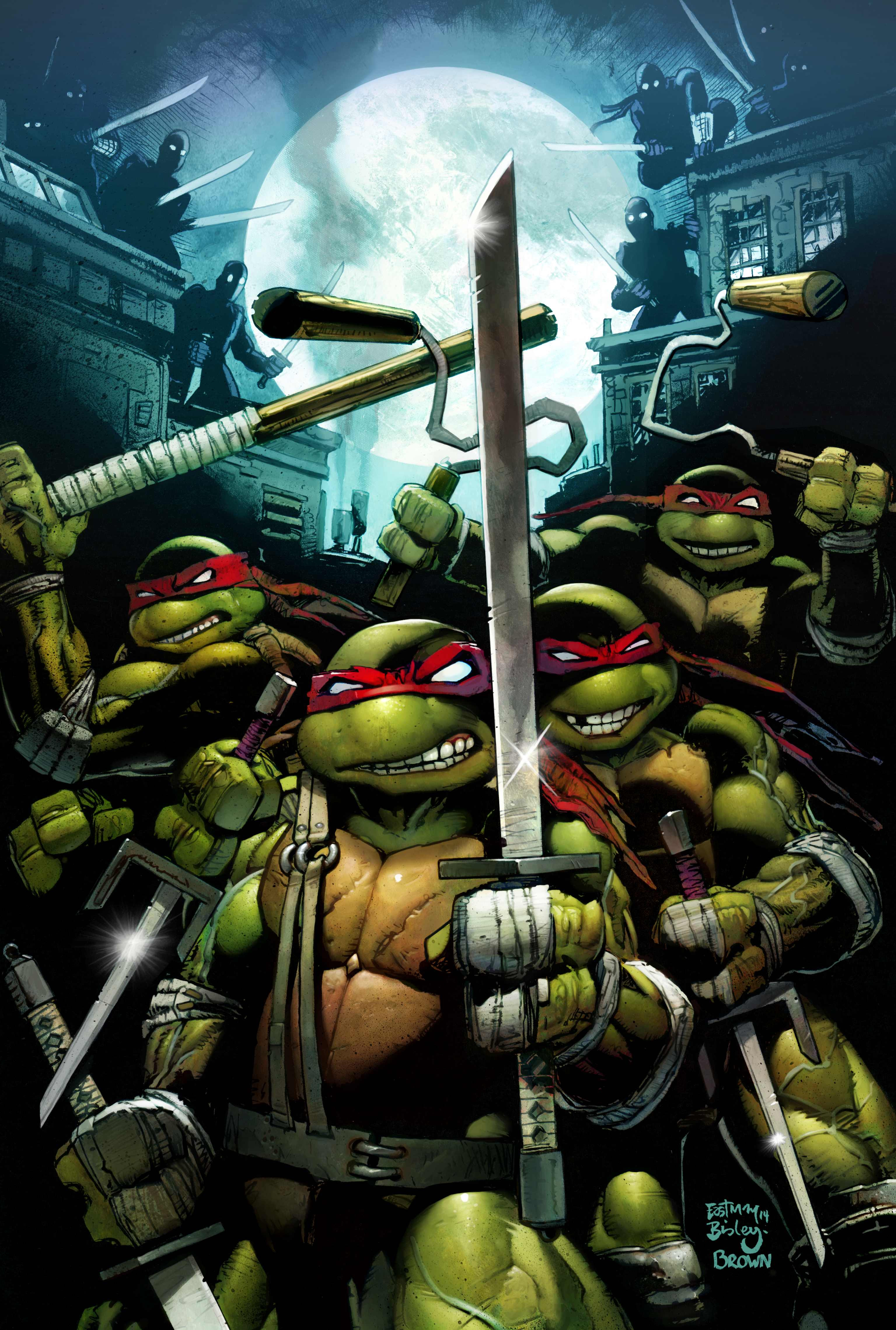 Gary Carlson
,
Frank Fosco,
and
Jim Lawson
to IDW's own
Tom Waltz
and
Dan Duncan
, the creators showcased in this 48-page full-color special issue spin fantastic TMNT tales from the sewers to the stars!
Considered one of the most popular kids' television programs of the 1980s,
Teenage Mutant Ninja Turtles
is a classic, global property created in 1984 by
Kevin Eastman
and
Peter Laird
. It first debuted as a successful comic book series and then became a hit animated TV show, a live-action television series and later spawned four blockbuster theatrical releases. The property also has translated into a significant consumer products business—with DVDs, video games, toys and more--that has generated billions of dollars at retail.
Teenage Mutant Ninja Turtles
debut on Nickelodeon in 2012 and ranked as the number-one new boy series for the year in the United States. In Aug. 2014, Paramount Pictures and Nickelodeon Films' CGI/live-action hybrid will hit theaters.